Yotam Ottolenghi's beef meatballs with lemony broad beans
If you needed an excuse to buy Yotam Ottolenghi and Sami Tamimi's fabulous Jerusalem cookbook, I think this recipe is probably worth the price alone. A combination of beef and lamb is gently spiced with fragrant baharat, a soothing mixture of black peppercorns, coriander seeds, cinnamon, cloves, allspice, cumin, cardamom and nutmeg.

The meatballs are freshened with a zingy mixture of fresh herbs, including dill, coriander, mint and parsley. I ran out of dill and used some chopped fennel tops, which is why the meatballs in my photo are strewn with spiky herb fronds. Delicious none-the-less.

The fresh broad beans are cooked with garlic and spring onions, in a little thyme-scented lemon and chicken stock broth. I suspect this shall become one of my favourite ways of cooking broad beans.

The Guardian newspaper website has the recipe for Ottolenghi's beef meatballs with broad beans and lemon. But don't just take my word for it, try it too as it is simply delicious. I am currently working my way through Jerusalem - I don't think that there is a single duff recipe in the entire book. This is a cookbook that is an absolute keeper.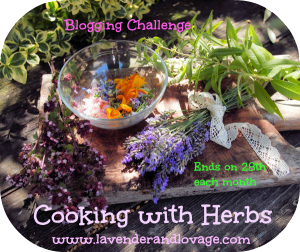 These meatballs are the perfect taste of summer and because they are chock-full of herbs, I am entering them into Karen at Lavender and Lovage's Cooking with Herbs blog challenge,
It is a beautifully fragrant blog challenge and I always look forward to seeing all the other entries. I urge you check them out all the other glorious recipes!